"Go Wild" at our ever popular 'Western' themed interactive improvisational comedy show featuring professional actors and comedians:  'The Prime Suspects' . No two shows are ever the same and even WE don't know what's going to happen at the showdown each night!
As our "studio audience" we make the show all about your group, conference, company or event, with 'in-jokes' industry references and inviting your guests to help create the craziness by suggesting scene ideas, lines of dialogue and characters for the performers to act out.
Cheer on your favourite performer as the rival comedians compete in rounds of quick thinking comedy improve games which include "Sound effects", "Lets Make a Date", "Props" and "Prime Lines" and are followed by the dreaded but decisive musical 'Showdown Hoedown'.
---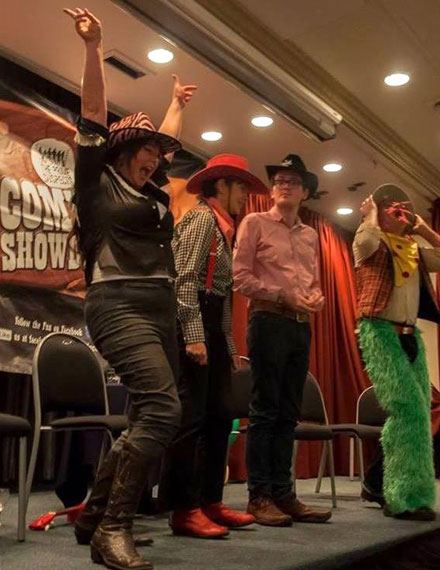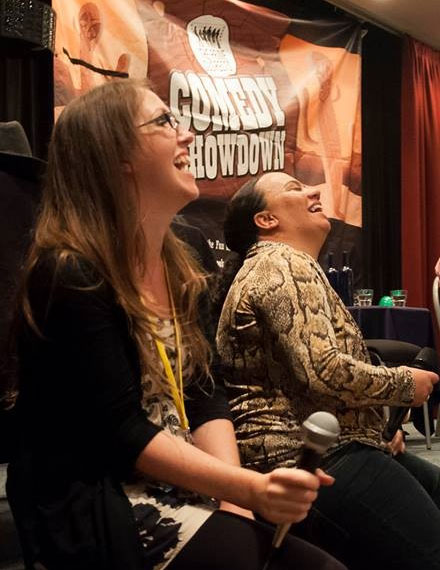 ---
With totally unpredictable adult content, shows are approximately 2-3 hours in length and can work around or include a Western/Barbeque inspired 3 course Dinner Buffet.
Say "Yeehah" to the Wildest fun night out!
This fabulous evening includes
A delicious Western/Barbecue inspired 3 course dinner
Hilarious interactive skit and improve comedy show
A DJ for after-show music and dancing until midnight
Although it has a Wild West theme, 'Comedy Showdown' does not demand the audience comes in fancy dress, however we encourage you to do so … it adds to the fun!
Get involved in the show
Groups, businesses and guests celebrating special occasions can be involved in the show.
To add to the interaction several audience members are chosen as volunteers to participate in the hilarity as our talented performers create comedy in front of your very eyes as they battle it out to be the night's Comedy Champion! Be sure to mention your celebration or event and nominate your brave or unsuspecting "volunteers" when making your booking.