On arrival guests receive gold doubloons to spend playing against the Pirate Lords in traditional pirate games of Liars Dice with prizes at the end of the evening for the biggest winners.
'PIRATES OF THE PACIFIC' is most unique and fun-filled party event of the year. A wild night of fun, mystery, action, games and adult comedy. On arrival guests receive gold doubloons to spend in the games with prizes at the end of the evening for the biggest winner and for the person who comes closest to solving the mystery.
---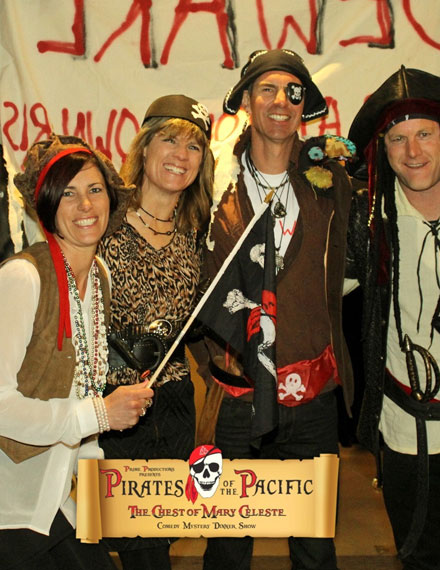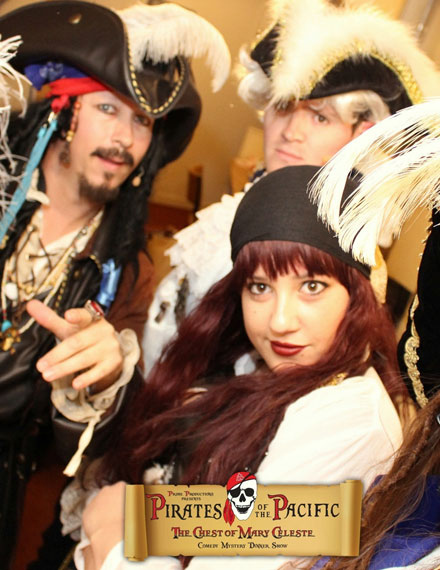 ---
Join 'The Prime Suspects' as they bring to life (and death) memorable and colourful characters at the most exciting and original night out in The Bay. 'Pirates of the Pacific' runs from 7 pm til 10:30 pm and finishes with prizes for the winners and a DJ for music and dancing.
Get ready to…PARTY LIKE A PIRATE!
Fancy dress is optional, but we encourage you to dress in "Pirate" theme as it adds to the fun and there will be prizes for the best dressed "Pirates and Pirettes".
'Pirates of the Pacific' features unpredictable improvisational comedy, every night brings new laughs and surprises and no two shows are ever the same. Note: Shows contain adult themes, sexual innuendo, coarse language, realistic swordfighting, murders and gunfire and are restricted to guests aged 16 or over. This show is ideal for groups of all sizes with guests seated together on tables of 10 in their own sections.
'Pirates of the Pacific' is the perfect night out for groups, social clubs, team-building, business events and private parties. The plot thickens when a key character is murdered, then it's up to you to spot the clues and solve the mystery to win prizes. The action takes place all around the dining area. So stay alert throughout the laughter… 'The Prime Suspects' will be amongst you, perhaps even sitting at your table!
---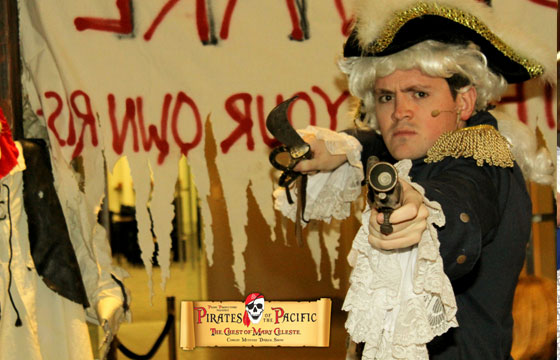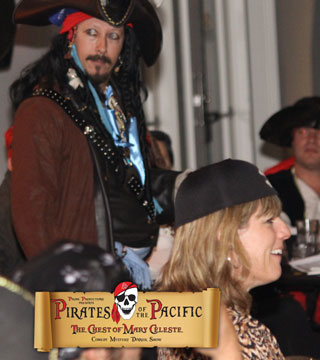 ---
Groups and guests celebrating special occasions can be involved in the show. Be sure to mention when booking to nominate your brave (or unsuspecting) "volunteers". Shows start at 7:00 pm and finish at 10:30 pm, allowing dining time for your themed 3 Course Dinner and Fun gaming. (Note: Gaming is fun only, additional Gold Doubloons are available for purchase. Gold Doubloons are not redeemable for cash.)
Your swashbuckling evening of entertainment includes
A delicious Caribbean Pirate inspired 3 course dinner.
Thrilling Drama, Risque adult Comedy and Outrageous Action.
Pirate challenges and games featuring traditional Pirate Liars Dice with prizes for the biggest winners.
An interactive Mystery to solve with prizes for the best detectives.
A DJ for after-show music and dancing until midnight.
Al dates selling out fast – BOOK NOW!